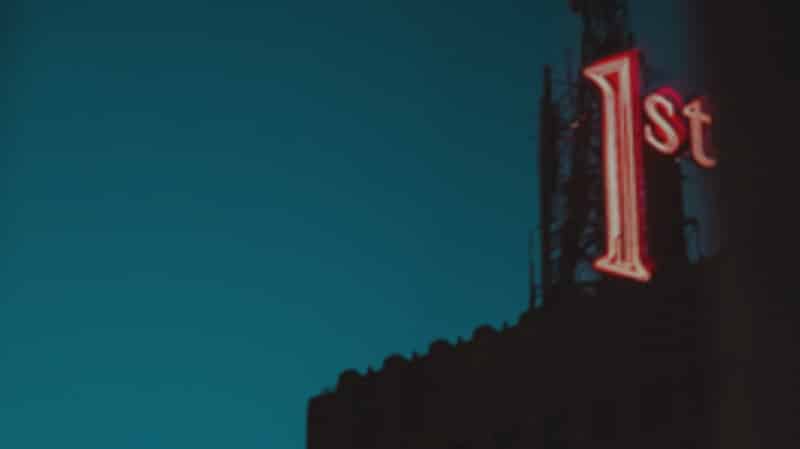 First mover advantage growing:
Is it too late for retailers to create a retail media operation?
By Angus Frazer – Founding Partner, Sonder
This article first appeared on marketing website Mi-3 
There are three key advantages to being an early mover into the world of retail media: Strong data, strong sales relationships, and strong tech. As Sonder's founding partner Angus Frazer writes, none are unsurmountable – yet. But the barriers to entry are growing, and the faster brands start the journey, the faster they can unlock 80 to 90 per cent media profit margins.
Earlier this year a report by BCG and Google included a survey into Commerce Media. The report pointed out that the early entrants to the retail media space have a distinct advantage over new entrants. Of course, first mover advantage is a significant opportunity that favours the bold and the brave. Amazon, the poster child for owned media leverage globally has seen this (see the chart below). As have the likes of Walmart, CVS, Boots, Harrods and Target.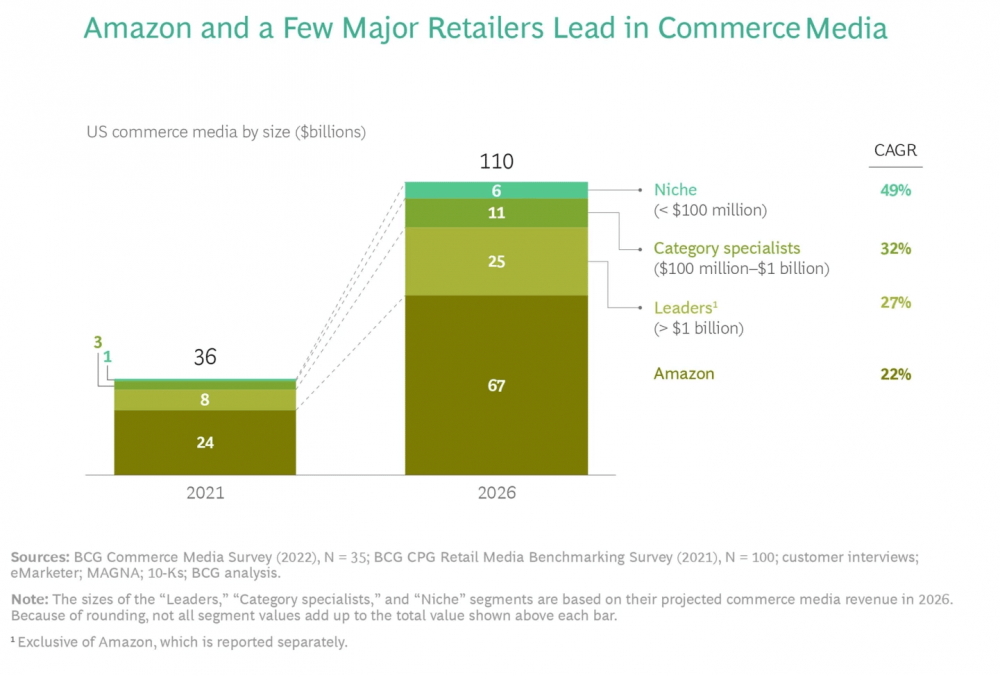 Here in Australia Woolworths, Chemist Warehouse and Winning Appliances are examples of early movers in retail media. But is it too late for retailers to create, operationalise and grow their own retail media offering? As a market, Australia struggles to support myriad players in virtually any category, so has the ship already sailed for retail media?
BCG argue that there are three distinct advantages an early entrant will experience:
1. Strong customer data and relationships.
2. Rapport with media buyers.
3. Building a technology stack for scale.
Having valued and unlocked over $8 billion in owned media value for businesses around the world, Sonder has gained a unique perspective on how owned media (and its derivative retail media) can be unlocked and leveraged to best practice. So, let's dive into these early entrant advantages identified by BCG and see how they are borne out in the real world.

1. Strong Customer Data and Relationships
Ask anyone in the retail media space and they will tell you the number one advantage they have over traditional paid media owners is first party data. Having an in-depth understanding of customer behaviour and, importantly, the downstream financials of sell through, ROI, ROAS etc. is hugely powerful. In many cases, the level of targeting and reporting that retail media providers can deliver for advertisers has left the traditional paid media world flailing.
If a retailer has operationalised and unlocked their customer data to provide advanced targeting and reporting, they are a long way toward realising the potential of their owned media channels. Is there an early entrant advantage to this? Yes, but it's not a defendable advantage. With many data specialists developing technology that can "plug-in" and quickly enhance and operationalise customer data, early entrant advantage is slim. So long as a retailer has customer data and is collecting it continuously, then they can quickly level-up this early entrant advantage. If a retailer doesn't have a means for collecting and storing customer data, then they have bigger issues to deal with.
2. Rapport with Media Buyers
Collectively, according to SMI, Australian media agencies were responsible for spending $8.6 billion in 2021. That is $8.6 billion of other businesses' money that media buyers are directing to media owners. So, yes, media buyers have influence when it comes to attracting advertiser dollars.
The question for retail media providers is: What's the role of media agencies when, as a retailer, you may have better relationships with a vendor brand than the media agency does? We know of leading retail media providers who are being briefed by brands before the media agency even gets a look at the brief. The other complexity is understanding the relationship a retailer has with the marketing department of the brands they sell. In some cases, trade relationships can be strong, while marketing relationships non-existent. For retail media providers to grow beyond trade budgets they need to attract marketing and brand budgets from vendors and potentially non-supplier brands.
So, is rapport with media buyers an important requirement for retail media? Right now, it's a low priority requirement, however, media agencies are adept at following the dollars. Many have already created commerce divisions that are specialised in helping brands to navigate retail media and to look at it more holistically. Retail media providers need to engage media agencies to protect their future. But again, this is not an early entrant advantage. Yet. But it will be soon.
3. Building a Technology Stack for Scale
The key word in this heading is not the buzz words of tech, stack, or scale. It's "building". To build anything (technology or otherwise) requires resource and commitment. Having CEO and board level commitment is necessary for retail media teams to grow and thrive. We've seen it time and time again – when the CEO is behind owned media leverage, the resource, technology and budget required to set-up and build a retail media operation is secured.
Retailers can build a dedicated retail media unit that self-funds in the first year. Once the value of owned media is known, which channels are attractive to brands and then empower a small team of media professionals to sell media solutions, things can grow quickly. Margins in owned media are extremely high (80 to 90 per cent) as the chart below indicates, owned media can be the most profitable part of a retail business.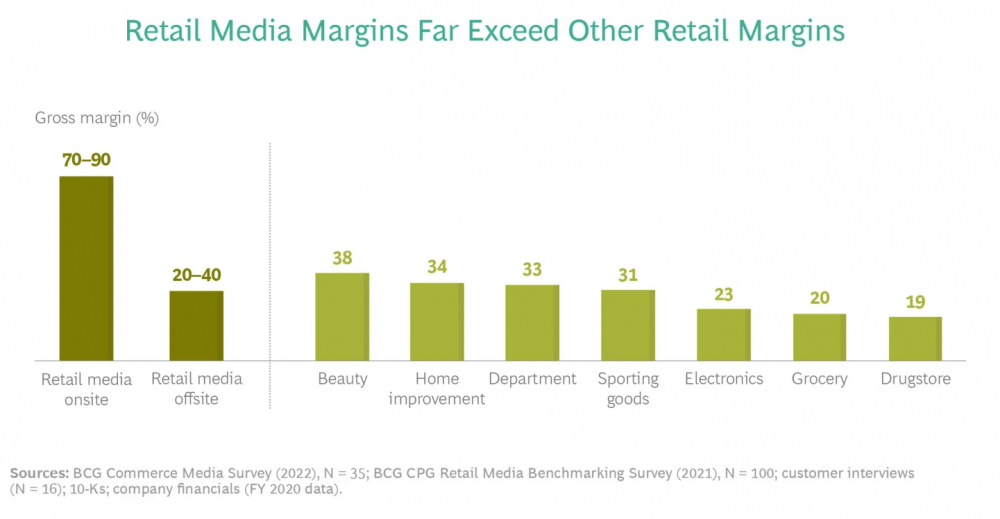 The building of technology and operations that leverage the entire owned media ecosystem is a distinct early entrant advantage because the sooner revenues are being generated, the sooner profits can be funnelled into more advanced technology and teams. The longer a business takes to operationalise their owned media ecosystem, the longer it will take them to self-fund and grow.
Other real-world advantages we've seen for early entrants include:
Internal alignment on owned media best practice
Often, we find retailers giving away owned media, misunderstanding of the role of owned media channels across internal divisions, and no process or structure to managing owned media. When the value of owned media is understood, internal alignment becomes a lot simpler.
Evidence of success
Case studies are the currency of sales success. Being able to demonstrate evidence of effectiveness takes time. The sooner a retail media provider can prove that their solutions work, the better. Even more appealing to brand marketers is always on reporting of sales in dashboards linked to retail media campaigns. This sort of reporting is being offered by the leaders in retail media and will build trust and transparency with brand marketers.

Customer trust
In the retail media world, the customer becomes the brand marketing departments (and sometimes their media agencies). The longer a retail media team works with their customers, the better the relationship and understanding of their business.

Riding the wave
There is a heightened appetite for retail media in the marketplace. Those businesses with the right offering can immediately capitalise.
Retailers in Australia can still unlock the power of their owned media channels and create effective retail media units. The longer they leave it, the harder it will be to meet the expectations of brands and the longer it will take to deliver highly profitable revenue and more advanced solutions that enable growth. So, as they say, there's no time like the present!
We believe your fortune lies within. Look within to reframe your perspective on how to find growth.
Contact us to unlock new revenue today
Contact us