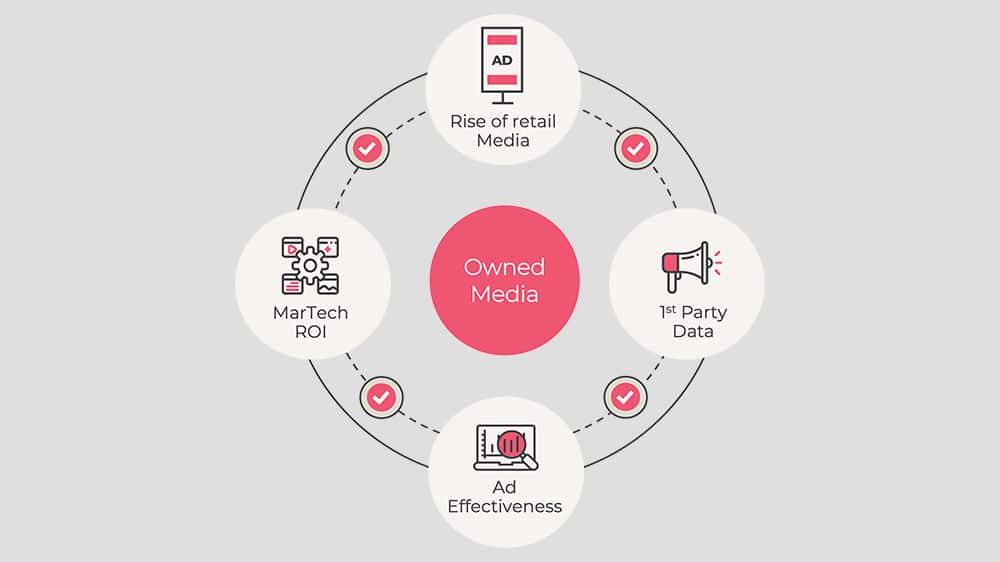 Owned media is at the centre of marketing's major challenges
By Angus Frazer, Founding Partner, Sonder
This article first appeared on marketing website Mi-3
The marketing services industrial complex (to paraphrase US President Eisenhower) is adept at creating challenges to distract marketers. The wary marketer must wade through these myriad challenges to find the ones that really matter to the business and that can be addressed sensibly.
In some cases, the challenges faced by marketers are connected by a single solution that can address multiple issues. We've identified four fundamental challenges that are bearing down on marketing led organisations and that are united by a single opportunity. 
It's what's on the inside that counts
Owned media is at the centre of some of marketing's major issues per the diagram below. In some cases, it could even be argued that owned media is contributing to some of these challenges. But, by far, owned media represents an opportunity to address and even benefit from them. Unfortunately, owned media is often the forgotten child of the marketer's remit, but its strategic leverage can reap rewards.
The Owned Media Opportunity at the Centre of Marketing's Major Challenges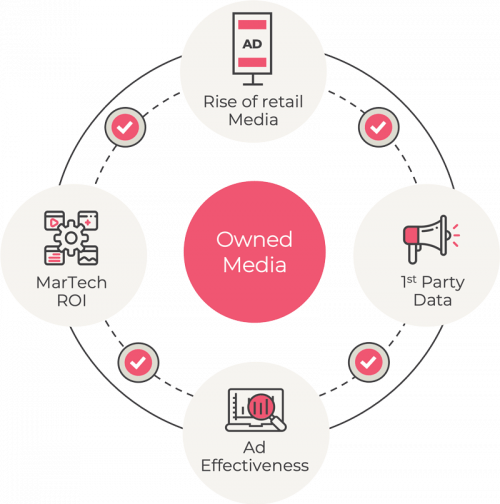 So how does owned media relate to these challenges and what are the opportunities?
1. The stale cookie

Much has been written and said about the demise of cookies. They will soon be in the digital graveyard along with MySpace, floppy discs and dial-up. Which is great for the internet and privacy. The impact of this change will be far reaching, but one thing is clear – first party data will take on a more important role in the way organisations connect with customers and potential customers. It is more important than ever to understand and harness the data around your customer's behaviour.
First party data is a business asset which can be used (amongst other things) to improve the way owned media is leveraged by an organisation. Having worked with companies across grocery, travel, retail, telco, finance and utilities categories, we have seen the targeting capabilities being deployed by companies here and overseas. In many cases the targeting and reporting being provided by these non-media companies is more sophisticated than the paid media market.
First party data is also vital to providing compelling customer experiences, which is where the second challenge comes into the equation…
2. MarTech ROI

It has been estimated that $4.6b (Gartner, 2022) is being wasted on martech every year, so it's perhaps little wonder that CFO's are questioning the return on investment from martech-heavy programs. Loyalty programs are, typically, heavily reliant on martech products that deliver insights, offers and rewards to customers. The cost, and the requirements, of these martech products is increasing significantly. Data and content management, targeting solutions, partner sourcing and resource are just some of the costs required to maintain and grow a loyalty program.
The ROI on a loyalty program can often be difficult to fully quantify, though this doesn't mean they don't deliver a strong return to the business. What it does mean is that the way a loyalty program delivers value to the organisation should be multi-faceted and where possible, quantifiable. One way to diversify the ROI of loyalty programs is to unlock the owned media that is often given away to partner brands.
For the loyalty program, it means the owned media that is used to promote a partner brand offer can be used as leverage to secure the partner offer. For example, an offer cost of $20,000 (which is usually covered by the partner) can be offset with owned media typically valued at 5x the offer cost. This makes the loyalty program very appealing to partners and ensures that the volume and value of offers to customers is maximised.
Rewards and offers in loyalty programs provide partner brands with access to powerful audiences and the opportunity to drive sales growth without having to pay for promotional media externally. The efficiency with which these programs can drive a consumer behaviour for partner brands comes down to the reduction in time (and place) between the moment of transaction (e.g. a sale) and the moment of media consumption, which leads to the next major challenge…
3. Advertising Effectiveness

Media convergence is giving way to transactional convergence, where the moment of media consumption and the point of transaction occur at the same time. Why is transactional convergence such a big deal? When advertising budgets are under increasing pressure to perform, the closer the points of media consumption and transaction, the better the chance of driving a sale. Owned media is often the very definition of transactional convergence. Think of a retailer offering ad space on their e-commerce website to a brand that is sold on the site. The opportunity for that brand to fully exploit transactional convergence is enormous.
Transactional convergence is even more relevant when you consider the convergence of marketing and sales roles. The progressive CMO is often deeply entrenched with sales within an organisation. In some cases we're seeing hybrid leadership roles being created that fuse marketing and sales. So, with marketing being charged with driving business outcomes, not just communications or brand outcomes, the next challenge becomes a significant opportunity…
4. The phenomenal growth in Retail Media

Retailers are providing better marketing solutions to brands using their owned media, first party data and downstream reporting than many traditional paid media outlets. Retailers are providing brands with strategic solutions that deliver effective channel formats, efficient targeting, reporting and automation and they're leaving the traditional advertising market flat footed.
Where once a retailers owned media was deemed by brands to be a begrudging cost of doing business – a form of tax to get ranged – modern retailers are now changing this dynamic. They're adopting pull strategies that makes owned media enticing and attractive to brands who are looking for convergent media environments that leverage first party data and accurate downstream reporting. And, for the most part, it's working. So much so that other, non-retail, categories are reappraising themselves as media businesses. Which is why airlines, telcos, utilities, financial services and loyalty businesses are all adopting owned media strategies to help them grow from within, by utilising the media assets they have already created.
Summary
Some of the biggest challenges in marketing are actually united by a solution that requires the business to look within. Owned media represents an opportunity to address and even benefit from the challenges facing marketers. Now, more than ever, marketers have to know their worth when it comes to owned media and be clear on their ambition when it comes to leveraging the value and unlocking the potential of their media assets.
We believe your fortune lies within. Look within to reframe your perspective on how to find growth.
Contact us to unlock new revenue today
Contact us