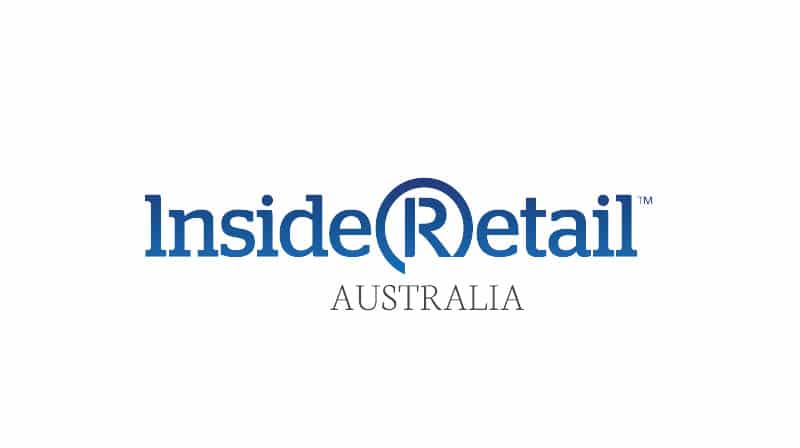 10 May

Retailers are the new media moguls

Retailers are the new media moguls

Retailers are poised to generate highly profitable revenue through their media argues Sonder's Jonathan Hopkins.

The Gruen Transfer's Russel Howcroft said it best when he remarked live on-air how Chemist Warehouse are shrewdly making millions from their suppliers before they'd even sold any of their products! Like many other aggregator retailers, they are able to do this because they have successfully positioned themselves as media owners. This is a game changer for retail businesses struggling to find profitable growth in an increasingly tough trading environment. Indeed owned media monetisation is predicted, by Marketing Week magazine in the UK, to be one of the top 5 trends for 2019.

There are 3 compelling reasons why retailers are set to become the media moguls of the future:

1. Vast multimedia ecosystems

If you pause to consider the various media channels at a retailer's disposal, it is quite surprising. Consider the following list which typifies most retailers:
| | | | | |
| --- | --- | --- | --- | --- |
| Stores | Digital | Direct | Physical | Staff |
| Static Posters / POS | Website | Emails | Posters | Intranet |
| Screens | Blog | Direct Mail | Call centre | App |
| POS screens | Social media | App | Catalogue | Email |
| WiFi login | Podcasts | SMS | Custom Magazine | |
| Activation zones | | | Trucks | |
| Radio | | | Packaging | |
Consider websites alone, for this is where audiences are publicly available and comparable. As the graph shows, there are more retailers in the Top 100 Australian websites than established media owners. Furthermore, it is a retailer attracting the highest audience; eBay has 20% more monthly page views than YouTube.The number of people a retailer regularly impacts across their media ecosystem might surprise you too. On average, Australian retailers deliver over 100M duplicated customer impacts per month. That is comparable to established multimedia media organisations who rely primarily on advertising revenues to survive.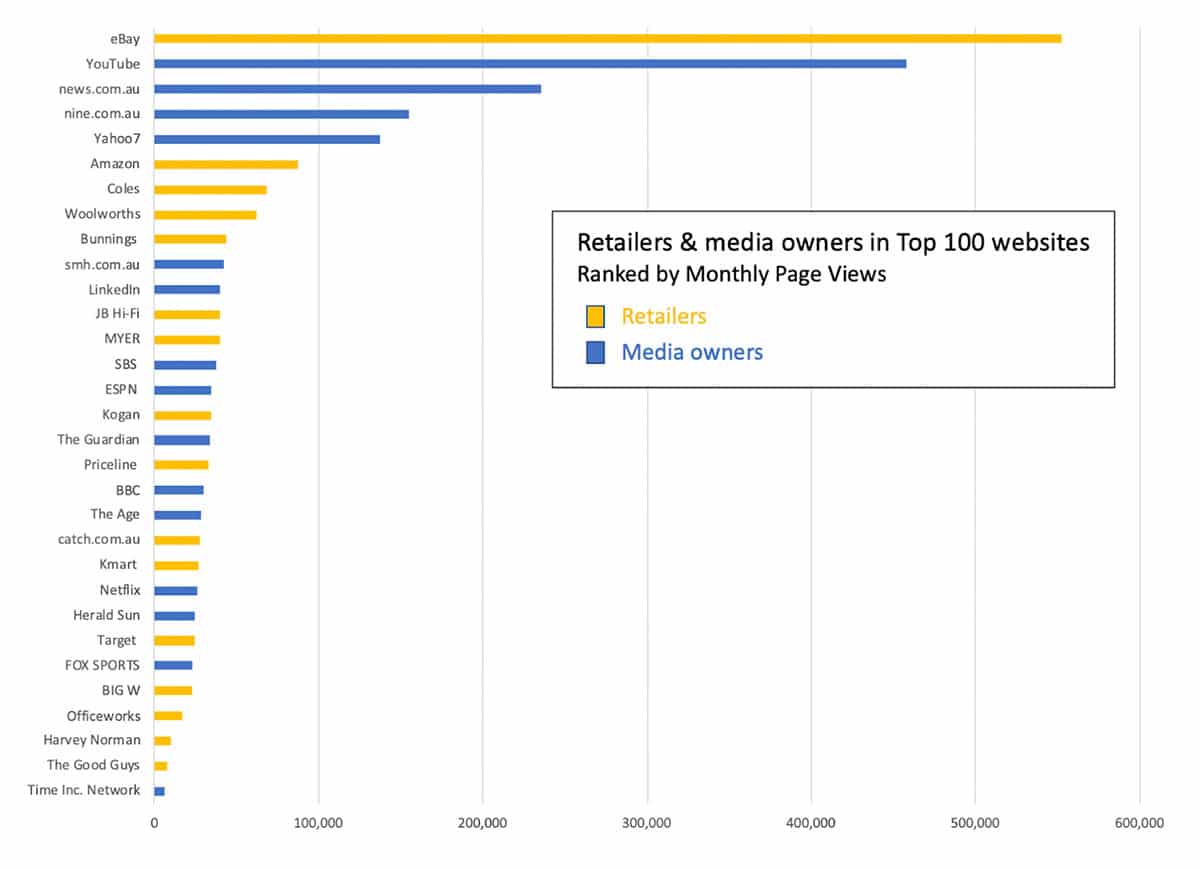 Data Source: Nielsen
2. Customer trust
Trust cannot be underestimated. It is a powerful purchase driver and something few media owners have. Are people more likely to have a trusted brand relationship with Channel 9 or David Jones? With The Block or Bunnings? With news.com.au or Coles?
Media owners tend to deal in the currency of attention, desperately attempting to cling on to an ever-fragmenting audience. Retailers deal in the currency of trust, attempting to offer goods and experiences which drive loyalty and advocacy. In the connection economy, trust eats attention for breakfast. You can't truly connect with a customer without trust and advertisers need to connect in order to grow.
3. Proximity to point-of-purchase
The third and probably most compelling reason retailers are poised to be the media moguls of the future, is their proximity to point-of-purchase. Shop! (formerly known as POPAI), the global association advocating for excellence in shopper marketing and retail experience, found that a staggering 82% of purchase decisions are made in the store.
No media owner can offer purchase decision rates anywhere near 82% and for an advertiser, it makes sense to advertise adjacent to the place where people can actually buy the product.
Size of the prize
We have sized the Australian owned media market at $96B. The retail category represents 46% of that, which equates to $44B. The average total media asset value for a retailer is $233M. With responsible monetisation strategies, a retailer can earn at least half this ($116M) in media revenue every year.  
Nielsen states annual media expenditure in Australia as $12B, so if just 28% of retailer-owned media is commercialised, then retailers would eclipse the entire paid media market in advertising revenue!
Our research has identified that the majority of retailer-media is undervalued and underperforming. Of the 52 businesses we surveyed, only 12% knew the value of their media assets and even fewer were commercialising them. Those that are commercialising their media, acknowledged that the processes were adhoc and manual leading to underperformance.
Who does it well?
Globally Harrods are the benchmark in this space. They have set up Harrods Media, dedicated to selling media to suppliers in a highly sophisticated fashion, akin to traditional media sales organisations. Guy Cheston, their Media Sales Director said, "Harrods Media delivers an important contribution to Harrods Group bottom line with the added benefit of driving retail sales in-store".
Locally Westfield, Coles and Myer are examples of retailers which take their media assets very seriously. Former Myer Executive GM for Marketing, Michael Scott said, "Owned assets are a very high margin revenue stream. You have infrastructure that exists and with a small investment in FTE's you can generate, tomorrow, an immediate revenue stream. The big play is engaging consumers in a more relevant way and commercialising it, that's the double jump we've experienced".
Practical guide to leveraging media assets
Armed with the understanding why retailers are powerful media owners and aware of the significant revenue opportunity, the million-dollar question is how do you take advantage of it?
There are 3 steps:
Value

– audit the media assets in your organisation, understand the scale of your audience and define your media asset value. From there you can determine annual commercial potential.

Unlock

– identify what needs to be done to existing assets to make them commercially viable and develop new assets. These assets must align with channels in-demand for advertisers, for example, a digital screen network. Also find ways to improve operations so that advertisers see you as a professional media owner.

Commercialise

– develop sustainable commercial strategies that deliver a triple win: for your customers, your suppliers and your profitability. The growth in pop-up retail experiences is a good example of this triple win.
In summary
Retailers have already done the hard part: invested in creating fully functioning, effective media channels within a branded environment that millions of customers trust. The opportunity is to change your lens a little and view yourself as a media owner. Do that and you will generate highly profitable new revenue streams.
This article originally appeared in Inside Retail and can be viewed here: https://www.insideretail.com.au/news/why-retailers-are-the-new-media-moguls-201902